Seton Student Achievements: 2005 – 2006
Seton Student Achievements: 2005 – 2006
Seton student Jamille Seaberg has been named a National Merit Scholar semifinalist. Jamille has been with Seton Home Study School since the sixth grade. She credits her faith and her family as being instrumental in her success.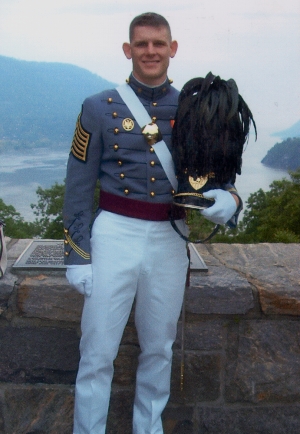 WEST POINT, NY – Jonathan David Bate graduated from the United States Military Academy on May 27 with the overall class rank of #1. The speaker at the graduation ceremony was President George W. Bush, who awarded the diploma to Jonathan, an honor graduate. "Home schooling helped me develop strong study skills and self-discipline necessary to succeed in a rigorous academic and military environment," commented Jonathan. He is a 4th Degree Knight in the Council at West Point.
A product of Catholic schools and a graduate from Seton Home Study School, Panola College, and Stephen F. Austin State University, at West Point Bate concentrated his studies in Economics. He was commissioned a second lieutenant in the U. S. Army upon graduation from West Point.
In his four years at the Military Academy, Bate received numerous awards including a Truman Scholarship for the study of International Affairs, Lt. Arnold Memorial Award for Cadet Officer Commanding the Third Regiment, Gen. Pershing Memorial Award for highest military rating in Military Science, Gen. Wood Distinguished Cadet Award, Association of the U. S. Army Award for the Cadet who best exemplifies the traditions of the U. S. Military Academy and the U. S. Army, Major Gen. Greene Memorial Award for the graduating Cadet achieving the highest class standing, Superintendent's Award for Excellence, awards from the governments of Peru, Uruguay, and Paraguay, etc.
Bate has branched Infantry and will complete his Officer Basic Course, Airborne training, and Ranger school at Ft. Benning, GA. His duty station will be Ft. Campbell, KY in the 101st Airborne Division.
The day after graduation, Jonathan married Jill Rahon of Washingtonville, NY, who also graduated from the Military Academy at West Point as a second lieutenant. They were married at the historic Most Holy Trinity Catholic Chapel on post at West Point.
His parents are Larry and Laura Bate of Carthage, TX. His father is a 3rd Degree Knight in the Council at St. William of Vercelli, and also a deacon candidate for the diocese of Tyler. Grandparents are Virginia Bate of Carthage, and Jewell and Willis Schwarzwalder of Rowlett, TX. His brother Stephen is a first lieutenant in the 82nd Airborne, stationed at Ft. Bragg, NC, and is a 1st Degree Knight.
The mission of the U. S. Military Academy (West Point) is to educate, train, and inspire the Corps of Cadets so that each graduate is a commissioned leader of character committed to the values of Duty, Honor, Country; professional growth throughout a career as an officer in the United States Army; and a lifetime of selfless service to the Nation.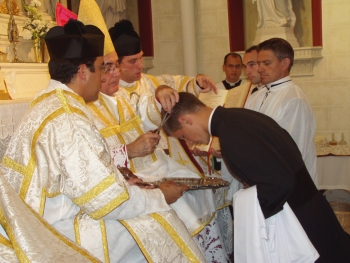 On October 7, 2006, Mr. Gregory Eichman, a graduate of Seton Home Study School, received his cassock and was tonsured by His Excellency, The Most Reverend Alvaro Corrada del Rio, S.J., Bishop of Tyler, TX. The ceremony was held at St. Francis Church in Lincoln, Nebraska for seminarians of the Priestly Fraternity of St. Peter, an Institute of Apostolic Life of Pontifical Right established by His Holiness John Paul II in 1988. During the rite of tonsure the bishop cuts the candidate's hair and asks him to renounce the world and all worldly concerns. By receiving tonsure Mr. Eichman and his eleven classmates at Our Lady of Guadalupe Seminary in Denton, NE, set themselves apart for service in the sanctuary and, according to the traditional rites of the Catholic Church, took a necessary step for receiving further Orders.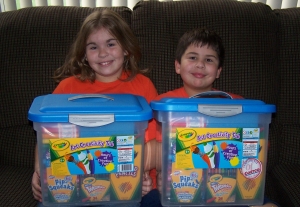 Seton students Annie (5th grade) and Joseph (3rd grade) Mondi were each a winner in their age group in their local Costco Wholesale Club's "Buckle Up for Safety" contest. Each of them received a Crayola Art Kit.
The family of Mr. and Mrs. Joseph Soucy of Massachussetts was recently chosen as the 2006 Knights of Columbus International Family of the Year. More information may be found at the Knights of Columbus Web site.
On July 1 Seton student Michael Poston was presented with the American Legion's Eagle Scout of the Year award for the state of Tennessee. At the end of July he completed the AIM (Academy Introduction Mission) program at the US Coast Guard Academy in New London, Connecticut.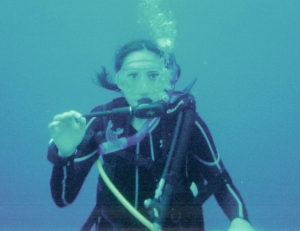 Cassie Stone, [a Seton student], participated in her first Regional Science Fair yesterday. The title of her project was "The Effect Atmospheric Pressure has on Air in a Contained Space." She measured the circumference of a balloon as she dove from sea level, to 33 ft., and finally to 66 ft. She was one of three students who received an award (and $250) for Overall Excellence from the Office of the Provost. She will be going to the Illinois State Science Fair in Champaign in May.
She has only been enrolled in Seton for 1 and 1/2 years, but I know this would not have happened if we had not made the decision to home-school. She has learned so much and has become much more confident in this short time. We are very proud of her.
Mrs. Stone
[UPDATE – 05/15/2006]
Cassie participated in the IJAS State Science Fair on May 6th. She received a Silver Certificate for her project titled "The Effect of Atmospheric Pressure on Air in a Contained Space."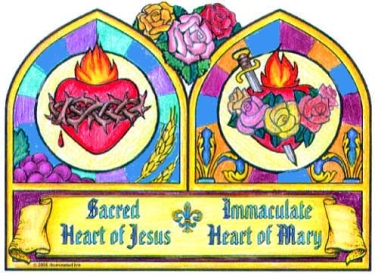 Seton student Mary Hickerson recently entered the Illuminated Ink Two Hearts Coloring Contest for June/July and won first place in the 11-18 age group.
Seton student John Paul Wohlscheid has been awarded the Voice of Democracy Certificate of Merit by the Veterans of Foreign Wars for being an Outstanding Spokesman for Freedom. His winning essay is entitled "Celebrating Our Veterans' Service."
Seton graduate Christopher A. Pince has been accepted into the Class of 2009 at the U.S. Coast Guard Academy in New London, Connecticut.
Seton student Theodore Claya recently received the Academic Leadership Scholarship to attend Aquinas College in Grand Rapids, Michigan.
Seton student KeriAnne Carter has been awarded the Academic Excellence and Church Service Scholarship.
Seton student Matthew Madrid has been appointed to the United States Air Force Academy in Colorado Springs, Colorado.
Seton student Monica Shibler has won a $3000 scholarship to attend Globe College in Minnesota.
Seton student John Gerardi scored a perfect 800 on the Reading and Writing sections of the May SAT test.
Seton student Sarah Stutzman has won a $9000 Presidential Scholarship and a grant to study music at Valparaiso University in Valparaiso, Indiana.
Seton student John Blazewicz has been awarded the Dean's Scholarship and the SJC Performance Scholarship for St. Joseph's College in Rensselaer, Indiana.
Seton student Melissa Martin scored a perfect 800 on the Reading section of the March 2005 SAT test.
Seton student Brandon Baker has been awarded the President's Scholarship and the Benedictine Scholarship to attend the College of St. Benedict/St. John's University in Collegeville, Minnesota.
Seton student Joel Soldner has been awarded the Grace M. Johnson Scholarship for the University of Wisconsin.
New Seton graduate Bryan McAlister has been accepted into the United States Military Academy in West Point, New York. The McAlister family has been with Seton for ten years.
Seton student Jacob Ebelhar recently received the UMR Trustees Scholarship to attend the University of Missouri at Rolla.
Seton graduate Justin Ferguson, currently a seminarian at the Pontifical North American College in Rome, is scheduled to be ordained to the diaconate at St. Peter's Basilica on October 6, 2005 and then to the priesthood in June of 2006. Justin had two personal audiences with Pope John Paul II (the last in October of 2004), and read the first reading at Pope Benedict XVI's installation Mass in April. Both Justin and his brother Jon, also a Seton graduate, graduated with high honors from the Franciscan University of Steubenville.
Seton student Daniel Marciniak recently accepted a scholarship in the amount of $6,000 per year to attend Benedictine College in Atchison, Kansas.
Andrew Hayes, who graduated from Seton in 2000, graduated from Christendom College (Front Royal, Virginia) in 2004 as his class Valedictorian. His mother credits study habits developed as a home schooling student as the basis of his success. Andrew is currently a professor of Greek at Christendom.
Seton student John Paul Wohlscheid recently won third place in his district for the annual VFW Voice of Democracy audio essay contest. He also won first place at the local VFW post level. Congratulations, John!
Three Seton students: Keenan Aungst (grade 7), Mariette Aungst (grade 3), and Nelson Aungst (grade 3) recently completed the 2004 Summer Reading Program at the Hockessin Public Library. Each received a certificate signed by Delaware Governor Ruth Ann Minner and Lieutenant Governor John Carner, Jr. as well as a book prize upon completion of the program.
Seton student Brandon Baker has been awarded eligibility for a Barry University Scholarship for the fall of 2005 based in part on his GPA of 3.800 and his combined score of 1300 on the SAT's. The award is renewable for up to four years as long as he maintains on-campus residency and a 3.0 grade point average. He would receive $14,500 each year for four years of study. Congratulations, Brandon!