Seton California
Seton California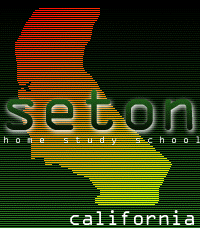 Seton maintains a California Office in the Los Angeles area. Records are kept for California students enrolling through this office. (Please continue to send papers to be graded to our Virginia office. Counseling questions and SEM orders should be directed to our Virginia office.) A display of curriculum materials is available for perusal and for purchase.
A large percentage of our families are from California, and this office will give us a better opportunity to serve our families.
Because Seton has a private school office within the boundaries of the state of California, where we keep records of our California students, our familes do not need to file an affidavit with the state. Paula Ellis is available to answer questions during normal business hours.
If you go to the Home School Legal Defense Association website, www.hslda.org, and click on California, then click on laws, then click on Option 4, you will see that Seton families in California need not file an affidavit. The Christian Home Educators of California website contains more information on the California private school affidavit.
Many families in California are concerned about charter schools and vouchers. Information on charter schools and vouchers can be found on the Home School Legal Defense Association website, www.hslda.org. More information is available from the Eagle Forum at www.eagleforum.org and from Concerned Women for America at www.cwfa.org.
Seton Home Study School–California
44751 Date Street
Suite 8
Lancaster, CA 93534
Phone: (661) 948-8881
Fax: (661) 948-7006
Email: setonca@integrity.com