What Parents Say
What Parents Say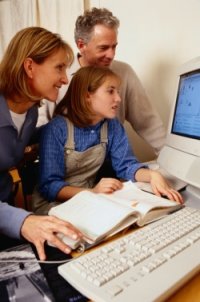 I have been very happy using Seton's curriculum. Seton provides detailed lesson plans on a day-to-day basis in every subject for each child; the plans are a great guide and a MUST for parents just starting out, because they help you to organize, know what to do each day, and assess the progress each child is making. I still use them because I have three children I am teaching, and it makes it so much easier and less time-consuming to have the PLAN right in front of me, all typed up! Seton's lesson plans are very flexible—you decide how slowly or quickly your child will progress through each subject depending upon his or her ability. Seton provides grading and transcripts—this is very important for highschoolers—for each child.
The REAL PLUS is Seton's religion program. Very rigorous. I am a convert who did not get much out of my RCIA program; I still had many questions and doubts about the teachings of the Church until I began teaching my own children the Faith.
The REAL PLUS is Seton's religion program. Very rigorous. I am a convert who did not get much out of my RCIA program; I still had many questions and doubts about the teachings of the Church until I began teaching my own children the Faith. When you teach your own children, first: you must yourself believe what you are teaching them or you are a hypocrite. That in itself spurred me to dig deeply into Church Doctrine, and has led me to a much stronger faith and appreciation of Mother Church. I like to say that I am in the 5th grade, now, when it comes to Catholic Religion, as I learn along with my 10-year-old daughter. We have come to believe that homeschooling our children is the very best method of teaching them their Catholic Faith, giving them an excellent education (how can you beat a 1-to-1 teacher to child ratio?) while sparing them all the negatives they would get in a public school (or even a private school) education. I really encourage you to give Seton a try (there are two other Catholic curriculums out there that I know of). Their program, in my opinion, is more than adequate. God bless your family through the homeschool experience!
Deanna
---
We've been using Seton for six years now. I believe you can't find a better structured curriculum for your children. It's complete and VERY CATHOLIC!!!
Theresa
---
Hello, I am a Seton student. I just wanted to commend you on your curriculum. I started home schooling with you at the beginning of this school year (1997-98) and I am amazed. That is the exact word, AMAZED. I was in a local private Catholic school all of my school life and I've never felt so good about myself as a person. I have to say, my old school was nothing compared to this year. All those years they taught the same thing. The subjects were repetitious. In eight years of Catholic school, I learned less than I learned in one year with Seton. I love how you incorporate religion and the church history into everything. But what I really think is the coolest is the feeling of accomplishment when I finished all my books to the end. In private school I was lucky to even have science once a week, and we never once in eight years finished any books. I absolutely LOVE Seton Home Study School. All my nieces and nephews are going to school with you and I'm very excited about high school. I hope you realize how vital this is in my life now. Thank you so very much.
M.H.
---
I am happy to return to you the books for the geometry, American literature, and English 11 high school courses. I really enjoyed them and learned a great deal. English 11 was a great course; I learned a lot.
Thank you for providing such excellent Catholic courses for high school. Seton Home Study School is wonderful!
M.T.
---
I recently received an order of books from you ("English for Young Catholics" books 2-4, and "Phonics 5 for Young Catholics"), and I just wanted to write to let you know how absolutely delighted I am with them! After seven years of homeschooling I can finally say my search has ended for "the perfect" language arts course. Your books are the most thorough, the most Catholic, and the most beautifully illustrated English series I've ever seen, and I only regret that it took me so long to discover them! Please pass on my compliments and gratitude to all the dedicated authors who put so much into producing them. Having recently had my own first book published, a novel about Saint Camillus, I can appreciate all the hard work that goes into writing any book!
I'd also like to thank you for your excellent service. I had requested that my order be sent by surface post, believing it would be cheaper. Your staff, however, obviously looked into it further and found out that airmail, in fact was the cheaper option. Their efficiency saved me over $30.00 N.Z. money! (Not to mention the fact that I didn't have to wait three months for my books to arrive.)
And, lastly, my biggest "thank you"…It was your book, "Catholic Home Schooling," which gave me the courage and inspiration, nearly a decade ago, to embark on this wonderful adventure of homeschooling in the first place. Seven years and eight children later, all I can say is that your book truly changed our lives, and God has given us untold blessings because of it. Please accept, as a token of my gratitude, a copy of a radio-play on Saint Elizabeth Seton, which I wrote several years ago. May she, your glorious patroness, obtain for you all of Our Lord's choicest graces for the New Year.
S.P.P.
New Zealand
---
Hello!
I must, first, tell you how thrilling we are finding our first year of homeschooling!! The Seton program is beautiful, and we have found great strength and happiness through our first 12 weeks of homeschooling efforts, by the grace of God. I never thought I could successfully homeschool my children, and now I cannot imagine having it any other way!! Homeschooling is wonderful. Special thanks to everyone at Seton!
J. K.
---
Dear Dr. Clark,
As Thanksgiving approaches and I begin to think of all that I am thankful for, Seton Home Study School is among the top on my list. Home schooling has brought tremendous peace to my home and my family and I am grateful to Seton for making that possible.
Seton does so many things to make home schooling easier. The printable lesson plans, the uniform shirts with the Seton logo, the resources on the My Seton page, the flexibility with courses and grade levels have all been part of the many things you do to make home schooling possible and successful for our family. Of course the solid Catholic material used in the curriculum is by far the best part of it all.
Thank you for all you do for the Catholic home schooling families. May God bless you and the Seton staff.
Sincerely,
A. D.
---
Dear Dr. Clark,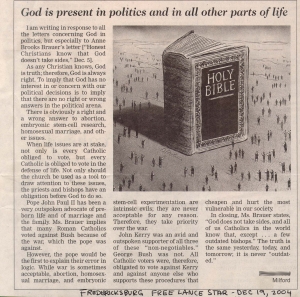 I have been wanting to write and thank you for Seton Home School for a year now but kept putting it off. Thanks!
In 1987 we knew we could not leave our daughters … [in the 5th and 6th grades] in public school any longer; they were growing away from us and Catholic values. The only problem was there were no alternatives since we live in a rural county. I still remember talking to you on the phone back then giving me confidence that I could teach them and their 3 younger siblings at home. The path has been long and exciting helping our whole family to grow closer to the Lord.
[Our daughters] are now married to practicing Catholic men + raising their children in the faith. [Two of my other children] who were in K + 1st back in '87 are also in Catholic marriages + good Catholics. … our youngest, is in his Freshman year at Christendom and a more conservative Catholic than his parents are.
But the main subject of this letter is that Seton Home School has so well prepared our children for living in the world. I have enclosed [my daughter's] latest Letter to the Editor in the Fredericksburg Free Lance Star (Dec 19, 2004). She has written several letters over the last couple years + they always publish them. These writing skills and the ability to defend her faith have come from her Seton courses. Thanks again for being there.
Merry Christmas,
S. G.
---
…From 1993 to 2002 my sons were either enrolled in Seton Home Study Program or I was using almost exclusively Seton Home Study school materials. We moved from Bel Air, Maryland to Albany, Georgia in 2000. Because Georgia's sports association would not let the boys participate in sports without being in school, we chose to enroll them in public school for high school. My oldest son participated in varsity baseball and swimming – he graduated with honors in 2006. Our second son participated in varsity baseball, cross country and track and field – he graduated with honors in 2007. I have two sons now attending public school also with honors and participating in soccer, swimming and cross country. We are very proud of them. BUT the reason for my e-mail of praise is to tell you how powerful your program, support, encouragement and witness is.
Just a few short months ago, our second son, Martin, began the long haul of getting through Marine Bootcamp. He was given the job of Catholic Chaplain's assistant because he was the only Catholic who raised his hand. In just a short time, he was able to get a small group together each evening to say the rosary. He said "thanks to Seton for encouraging his Mom to teach him the rosary and saying it every day" he has been able to lead them. On the Sunday before graduation (13 weeks later) one of the young men in Martin's Platoon was baptized, made his First Communion and was confirmed!!!!! All due to Martin's witness.
As his mother, I cannot tell you how proud I am of him. But as a "teacher" I would like to thank Seton Home Study for all the encouragement and support that I received for the years that I was homeschooling my sons. Having four young boys just 18 months apart was enough to keep me busy, but your witness of love and strength got us through the tough times and gave us the grace to enjoy and celebrate the good times.
THANK YOU AGAIN FOR ALL THAT YOU DO!
A. D.