Seton Chess Club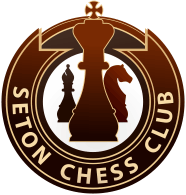 Membership in the club is limited to families enrolled with Seton. However, it is NOT limited to only Seton students. Parents and any children in the family not enrolled with Seton may join as well. Any age and level of player is welcome, from beginner to grand master. Players at each skill level can find a challenging game against a competetive player.
Here are the steps for registering for the Club. (Everything is a learning experience for us too, so please be patient with us as we get this going.)





On the right side of the page,
fill out the Username,
Email, and Validate fields.




You will receive an email
saying you have been approved
and containing your password.




On the main screen,
click "My Settings" and
enter in the player's age.
This is for Seton Administrative
purposes for setting up
tournaments and ratings!




Repeat the steps for each
person who wants to play.

*NOTE* You must use the EMAIL USED WHEN ENROLLING.

Can't remember your email?

Login to your MySeton page,
click on the "My Account" tab
then "Contact Info" for the email we have on file.