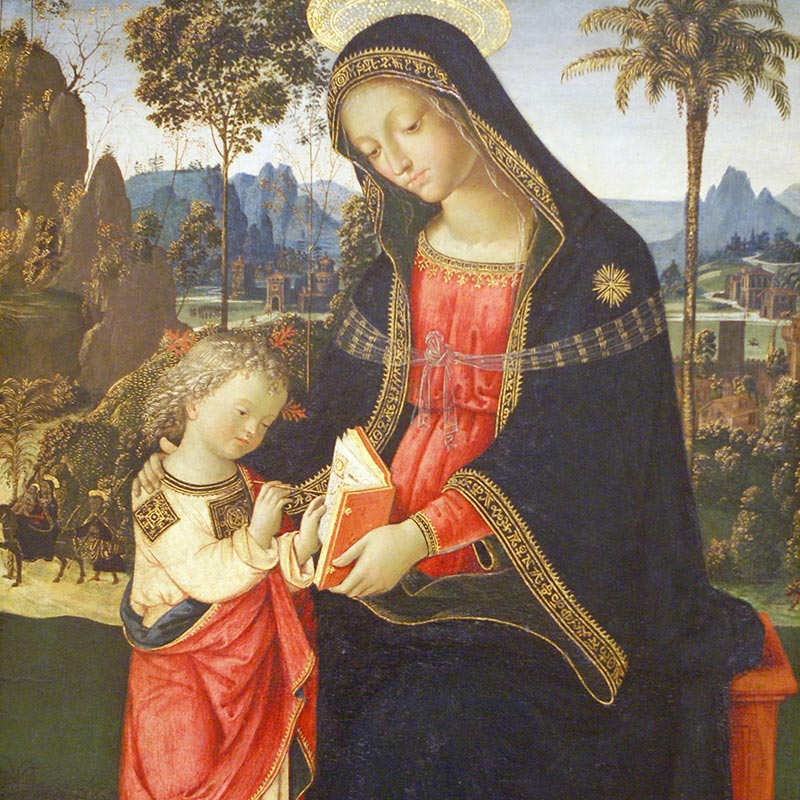 Catholic Homeschool Curriculum
Seton's Phonics Program
Phonics is the most successful method to teach reading and improve reading skills in young students. This method allows students to decode new words by sounding out the various letter combinations. It is one of the most important subjects in the early grades, and Seton's program extends from Kindergarten to Fifth Grade. The workbooks incorporate beautiful Catholic art.
In Early Literacy for Young Catholics, your student will learn the essential skills of vocabulary, phonics, and letter knowledge. The book also introduces colors, simple counting, and measurement. While many children are not going to be reading in Pre-Kindergarten, the workbook lays the groundwork for solid reading skills as your child progresses through her education. This book is full of exercises and activities that make learning fun and are designed to nurture your child's wonder, enthusiasm, and curiosity. The book is filled with examples of God's creation as part of your child's daily life.
The importance of reading aloud to young students is incalculable to their long-term success. Because of this, Seton includes six wonderful read-aloud picture books with your enrollment: Johnny Appleseed, Annie and the Wild Animals, Miss Rumphius, Blueberries for Sal, The Queen and the Cross, and The Saint and His Bees.
In Adventures with Books, your child will practice coloring, cutting, pasting, and following directions while learning neatness and carefulness with books. He will learn basic colors, how to color correctly, and basic shapes, along with a few familiar concepts, such as up-down, big-small, and left-right.
In Do It Carefully, your child will move from shapes to letters to words. She will begin with tracing lines and designs, progressing on to printing her name. Your child will be introduced to initial consonant sounds as well.
The Triangular Crayons brought to you by Melissa and Doug and included with your enrollment are perfect for developing and reinforcing the preferred grip for printing introduced in Early Literacy.
In Phonics K for Young Catholics, the young student takes his first steps into the world of reading. He learns to recognize letters of the alphabet, their names, their sounds, and how to write them. With this knowledge, he combines the sounds of letters to form words, and so begins the process of reading.
Booklet readers, the I Can Read: Kindergarten Reader, and many other activities are included to guarantee that the kindergarten phonics program will make these first steps the beginning of an exciting and enjoyable journey.
In Phonics 1 for Young Catholics, areas of study include long and short vowel sounds, beginning and ending consonant sounds, consonant blends, and consonant digraphs. Students also study the suffixes -ed and -ing. Throughout the course, students practice their reading skills using booklet readers and I Like to Read.
First graders then work through each of the readers: the Pre-Primer, This Is Our Family, and These Are Our Friends, from the classic Faith and Freedom series. The goal is for students to practice beginning skills in reading out loud and comprehension as they acquire vocabulary.
Second graders work with beginning, middle, and final consonants, short and long vowels, double vowels, vowel digraphs, diphthongs, compound words, prefixes, and suffixes using Phonics 2 for Young Catholics.
In Phonics 3 for Young Catholics, the student reviews the sounds of consonants, short vowels, long vowels, consonant blends, and consonant digraphs. Also, he studies vowel digraphs, vowel and consonant combinations, and compound words. He expands his knowledge of syllables, root words, suffixes, and prefixes, and is introduced to the phonetic symbol the schwa. These phonics skills provide the student with the necessary tools to advance in the process of reading.
A cast of phonics friends appear on many of the pages. The lessons are filled with colorful drawings and a variety of exercises to make learning exciting and enjoyable. Woven throughout the book are images of Catholic cathedrals from around the world, as well as verses and carols that present Catholic values.
Also included is Phonics Labyrinth, a fun and thoroughly Catholic board game themed on Chartres Cathedral in France. As students play the game, they reinforce phonics skills learned throughout the course.
In Phonics 4 for Young Catholics, fourth graders improve their phonics skills by recognizing blends, consonant digraphs, vowel digraphs, diphthongs, and silent letters.
They will decode words by analyzing prefixes, roots, and suffixes. The goal of this course is to strengthen the student's reading ability.
In Phonics 5 for Young Catholics, the final year of studying phonics, students work with consonant letter-sound associations, digraphs, and diphthongs.
Students demonstrate improvement in the decoding of words by analysis of their prefixes, roots, and suffixes. Continued emphasis is placed on compound words, possessives, and contractions.
The Value of Your Enrollment
Your enrollment provides you with much more than just a box of books. It provides an accredited education, a strong support system, and a community of staff and homeschoolers who are in your corner. It provides access to academic and support counseling, grading and record keeping, and a solid Catholic curriculum that promotes strong Catholic values in each and every subject.