Catholic Homeschool Curriculum
High School English
In order to achieve the end goal of developing good communication skills in each student, Seton incorporates a carefully planned trajectory into the design of the High School English curriculum. Starting with the basics, expository writing, persuasive writing, and then high-level interpretive essay writing are each covered at length in 9th through 11th grades, respectively.
Over the course of a student's experience at Seton, he or she will have every opportunity to develop the ability to write clearly, logically, and persuasively.
An equally important part of learning to write well is reading good writing. This is why Seton emphasizes reading the classics, or the fine works of literature. By reading high-quality literature that has stood the test of time, Seton students are exposed to the best examples of literary style, and are able to cultivate an appreciation for good writing that will filter into their own written work.
As with the writing component of the high school English curriculum, the literary component follows a carefully designed trajectory, beginning with simple classics in 9th grade. More complex literature is introduced in 10th grade, followed by a survey course in American Literature for 11th grade, and a survey course in British Literature for 12th grade.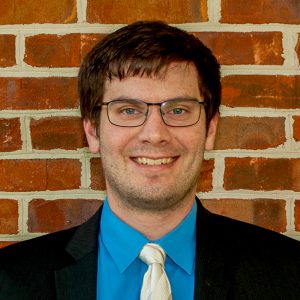 Sean O'Connor
Sean joined Seton in early 2019 as High School English Counselor. He has lived most of his life in Virginia, having moved into the Front Royal area in 1997. Sean began his formal academic career at Lord Fairfax Community College after graduating from Wakefield Country Day School in Huntly, VA. While at LFCC, he served the college and surrounding community as the VP of Marketing Officer for Phi Theta Kappa International Honor Society, helping raise funds for veteran students and cancer research. In May 2016, Sean graduated summa cum laude with an Associate of Arts and Sciences Degree in General Studies as an Honors Program Scholar while also being named the Outstanding Graduate for the Class of 2016.
After graduating at LFCC, Sean transferred to Benedictine College in Atchison, KS to pursue a degree in English. During his studies, he was committed to campus ministry by playing the violin at daily masses and the monthly "Underground" outreach events. Sean also was a student missionary with Saint Paul's Outreach, living with full-time missionaries and leading a men's small group. For excellence in the study of English and the Spanish language, Sean was inducted into both the International English Honor Society, Sigma Tau Delta, and the National Foreign Language Honor Society, Alpha Mu Gamma. In May of 2018, Sean graduated cum laude with a B.A. in English.
In his spare time, Sean enjoys playing violin and drums in addition to taking in the Shenandoah Valley from the seat of a motorcycle.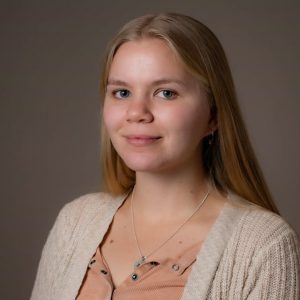 MaryRita Trzybinski
MaryRita joined Seton as a High School English Counselor in December of 2020.
She grew up in Chester County Pennsylvania and from an early age read classic works of literature ranging from Homer's Iliad to classics of the mid-twentieth century. From fifth through twelfth grade MaryRita attended Regina Luminis Academy, a Catholic private school whose aim is to provide a solid Catholic education based in the time-tested tradition of the Liberal Arts. Much of the school's English Curriculum is based on Seton's courses.
After graduating from high school in 2016 MaryRita continued her higher level education at Christendom College in Front Royal, Virginia. There she studied the Liberal Arts in even greater depth, revisiting many of the texts she had read in high school, while also expanding her repertoire. Though she appreciates Homer's work and enjoys Dante's Divine Comedy, the works of Dostoevsky, Evelyn Waugh, and Flannery O'Connor stand among her favorites to this day.
During college MaryRita learned the great value of analyzing literary works from an intellectual perspective in the Thomistic tradition. It is through literature that she fell in love with study of the human person, life, and culture.
MaryRita graduated Magna Cum Laude from Christendom in May of 2020 and joined Seton's full-time staff soon thereafter. As she works through Seton's English curricula, she is thoroughly enjoying assisting students and families with their course work and questions. Moreover, she hopes that through her academic counseling support, she can encourage Seton students to develop strong critical analysis skills and grow into a deep love of literature.
In her down time, MaryRita enjoys listening to a wide variety of audiobooks, podcasts, and music. She aspires to eventually publish her reflections on life and Catholic culture as a freelance writer. In the meantime, she loves playing piano and spending quality time with her fiancé, friends, and family.
Curriculum Contributors and Consultants
Fr. Charlie Bak
M.S.A., Holy Apostles Seminary & College
Ryan Corrigan
B.A., Christendom College
Mary Kay Clark
Ph.D., Assumption University
M.A., Case Western Reserve
M.A., Grace College
B.A., Ursuline College
Steve Costanzo
M.A., University of Virginia
B.S., University of Mary Washington
Mary Herlihy
B.A., Christendom College
Sharon Higby
Ph.D. Cand., University of Maryland State Park
M.A., Royal Holloway, University of London
Mitchell Kalpakgian
Ph.D., University of Iowa
M.A., University of Kansas
B.A., Bowdoin College
Patrick Keats
Ph.D., Catholic University of America
M.A., American University
Ashley Maciag
B.A., Christendom College
Lisa Marciano
Ph.D., University of Dallas
Michael McShurley
M.A., Notre Dame Institute
B.A., Trinity College
Dr. Robert Rice
Ph.D., University of Oregon
M.A., D.A., University of Oregon
B.A., University of California at Los Angeles
Frances Speer
M.A., Southern Methodist University
B.A., Christendom College
Christine Smitha
B.A., Christendom College
Walker Solis
B.A., Franciscan University of Steubenville
Joe Sparks
M.A.Ed., Virginia Tech
B.A., Peru State College
Sherry Spring
B.A., Christendom College
Glen Tortorella
M.A., St. John's University
B.S., St. John's University
Elizabeth Wagner
B.A., Christendom College
Patricia Walker
B.A., University of Virginia
Bob Wiesner
M.A., Maryknoll School of Theology
B.A., Christendom College
Theresa Zepeda
B.A., Christendom College
The Value of Your Enrollment
Your enrollment provides you with much more than just a box of books. It provides an accredited education, a strong support system, and a community of staff and homeschoolers who are in your corner. It provides access to academic and support counseling, grading and record keeping, and a solid Catholic curriculum that promotes strong Catholic values in each and every subject.