Grade 7 Homeschooling Curriculum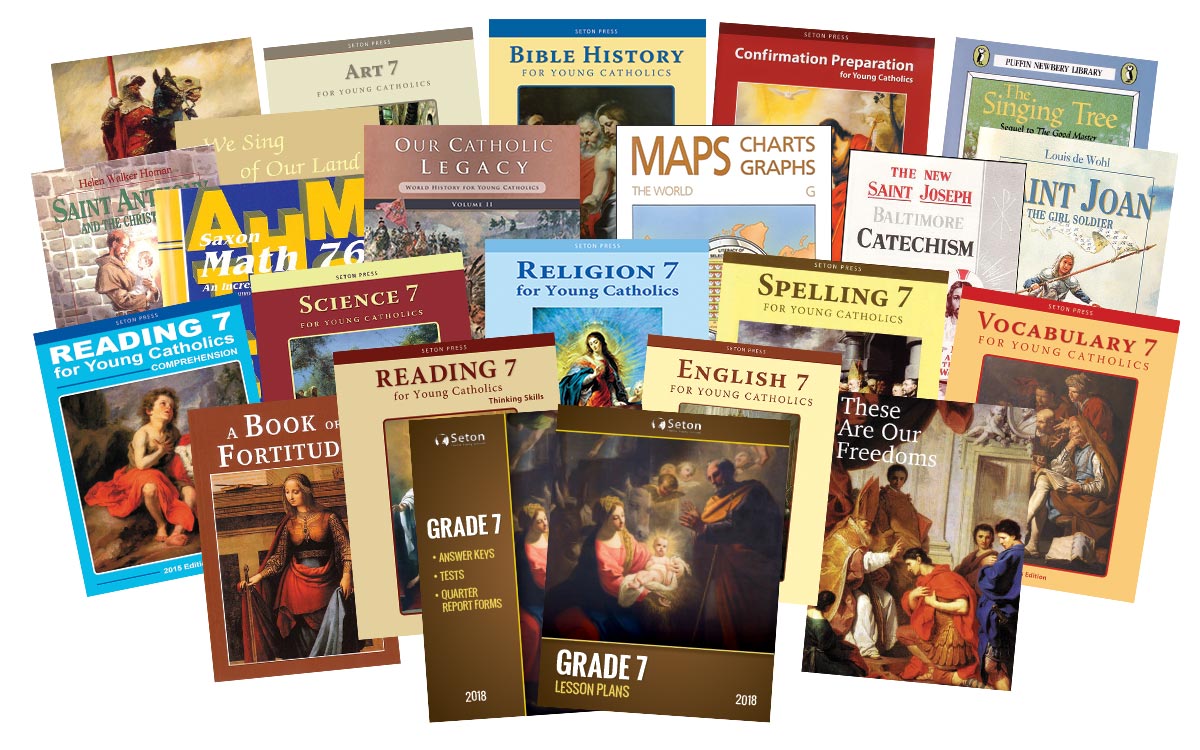 The detailed Lesson Plans walk you through day-by-day instructions and activities with your student. Answer Keys, Tests, and Quarter Report Forms are included.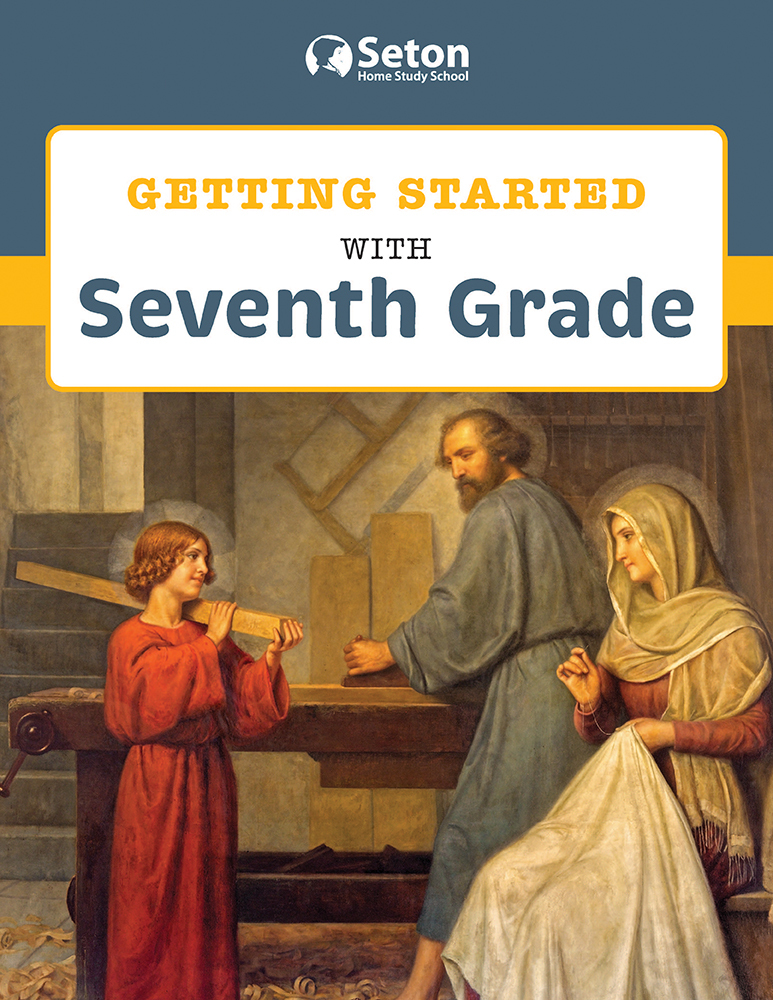 In this art appreciation course, students will study New Testament scenes by renowned Victorian artist, James Tissot.
Inspired by the visions of Bl. Anne Catherine Emmerich, each picture in Art 7 for Young Catholics is accompanied by commentary and meditations written by the Catholic artist.
Students study outlining in depth and learn principles that will enable them to outline compositions of any length as they read and write.
Using the English 7 for Young Catholics text-workbook, students build on their previous knowledge of punctuation, the eight parts of speech, phrases, clauses, and sentences. Students are introduced to relative pronouns, adverbial objectives, complex sentences, and learn to diagram sentences containing adjectival and adverbial subordinate clauses.
Our Catholic Legacy, Volume II helps students appreciate the richness of our Catholic heritage. Students learn about Michelangelo, St. Catherine of Sienna, Queen Isabella of Spain, St. Joan of Arc, Rembrandt, Cardinal Mindszenty, St. Maximilian Kolbe, and others.
Also included in the course is Map Skills: Grade 7. Topics covered include using an elevation map, reading a population map, and using a map and a graph together.
Teaching Textbooks Math 7 is an interactive online math course designed specifically for independent learners. The course contains a digital textbook, teacher lectures, and audiovisual step-by-step explanations of math concepts.
 
Though Seton recommends using the interactive online version, students can also successfully complete the course using the printed textbook alone, which can be purchased instead of, or in addition to, the online license.
 
In Teaching Textbooks Math 7, students study the following concepts: Adding & Subtracting Whole Numbers, Multiplying & Dividing Whole Numbers, Whole Numbers in the Real World, Fractions, Reducing Fractions, Adding & Subtracting Fractions, Multiplying and Dividing Fractions, Fractions in the Real World, Decimals, Decimals in the Real World, Percents, Percents in the Real World, Geometry Basics, Geometric Measurement, Statistics & Probability, Graphing Concepts, Equations & Inequalities, and more.
For more information about Teaching Textbooks courses, please click here.
Alternate: Saxon Math 76
(Textbook temporarily unavailable: Only enroll in this course if you already have the required textbook.)
Using Saxon Math 76, students improve their skills in working with fractions, decimals, and percents. They show proficiency in working with time, money, and area; exhibit skill in basic geometry and graphing; and improve their accuracy and understanding in problem-solving.
Students simplify expressions containing parentheses, perform operations with signed numbers, solve word problems with powers and roots, and learn about statistics and probability.
In We Sing of Our Land, children learn musical notation.
They will learn a collection of over 100 songs, including songs for every liturgical season, and parts of the Mass in Latin.
Seventh grade reading builds students' abstract thinking and analysis skills. The Reading 7 for Young Catholics: Thinking Skills and Reading 7 for Young Catholics: Comprehension workbooks are central in introducing new literary elements: conflict, motifs, and theme. Students learn to identify these and other literary elements in classic short stories and in episodes from the life of St. Margaret Mary, preparing them to analyze full-length novels for these elements later, in high school.
Each of the four book reports uses the five-paragraph format done in previous years. This year the student incorporates a thesis statement into the essay to tie it together.
Book Report Options
1ST & 2ND QUARTER
Johnny Tremain
Men of Iron
Singing Tree
Augustine Came to Kent
The Crystal Snowstorm
Anne of Green Gables
3RD & 4TH QUARTER
The Little Flower
St. Hyacinth of Poland
The Cure of Ars
St. Louis de Montfort
St. Isaac and the Indians
St. Anthony and the Christ Child
Edmund Campion: Hero of God's Underground
Saint Joan: The Girl Soldier
Bernadette: Our Lady's Little Servant
Science 7 for Young Catholics introduces students to chemistry, physics, aeronautical engineering, geology, and rocketry. Students do hands-on activities that require only household items.
Students learn to spell by completing 36 lessons with exercises on the makeup and definition of the words, and then read the words in sentences and paragraphs. Stories focus on the saints and other influential Catholics throughout history.
In Spelling 7 for Young Catholics, students cover such concepts as double letters, multi-syllables, consonant digraphs, diphthongs, prefixes and suffixes, science-specific words, and words from Greek, French, Spanish, and Latin.
In Vocabulary 7 for Young Catholics, students begin each lesson with a fun and entertaining story. Each story introduces 15 new vocabulary words which are the basis for the week's lesson. There are 24 delightfully engaging story/lessons in all. Each captivating story uses a clever twist to further engage the student.
The endearing art of Ben Hatke increases the impact of the stories and helps capture the student's attention. Crossword puzzles, a popular and rewarding way to recall the words students have learned, are part of each week's lesson.
The Value of Your Enrollment
Your enrollment provides you with much more than just a box of books. It provides an accredited education, a strong support system, and a community of staff and homeschoolers who are in your corner. It provides access to academic and support counseling, grading and record keeping, and a solid Catholic curriculum that promotes strong Catholic values in each and every subject.