Grade 5 Homeschooling Curriculum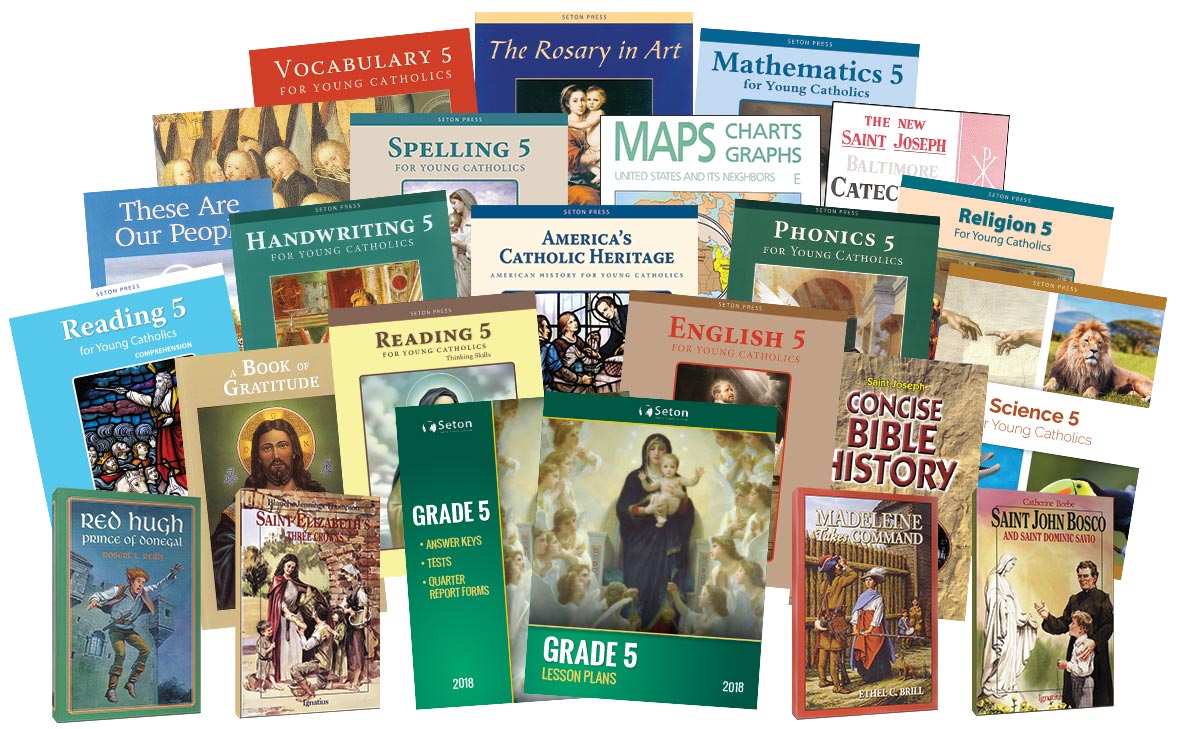 The detailed Lesson Plans walk you through day-by-day instructions and activities with your student. Answer Keys, Tests, and Quarter Report Forms are included.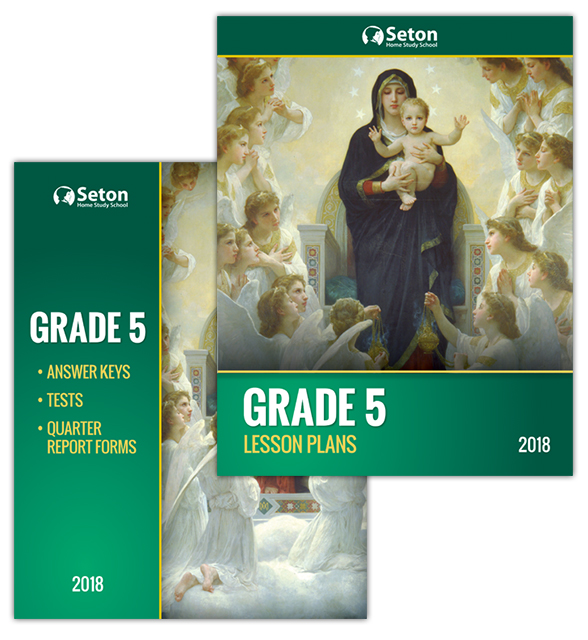 In Art 5 for Young Catholics: The Rosary in Art, children learn the Catholic principles that went into the techniques of religious art.
The theme of the book is the "Mysteries of the Rosary," as beautifully depicted by the world's greatest artists. Description of technique, scene, and color accompanies each picture, with a special emphasis on religious symbolism.
English 5 for Young Catholics challenges the student's knowledge of parts of speech, types of sentences, punctuation, and sentence diagramming.
Practice in written expression centers on paragraph writing. Students are introduced to the study of poetry. Catholic values are present throughout the book in exercises and in topics for writing assignments.
Handwriting 5 for Young Catholics continues training for proficiency in cursive writing.
Children continue daily practice and learn to write faster and smaller while improving neatness and legibility. With practice material on the United States and their capitals, American history is reinforced as well.
In America's Catholic Heritage, children learn the inspiring story of the men and women who built these great United States. They learn the story of the people, events, and the Catholic influence that made the dream come true.
Students have lessons blending reading and writing skills with content area instruction, involving advanced thinking skills such as drawing conclusions and using maps. In Map Skills for Today: Grade 5, they study topics including relief maps, analyzing map data, and contour lines.
In Mathematics 5 for Young Catholics, children attain proficiency in operations with whole numbers, fractions, decimals, and percentages. They receive instruction in basic geometry and measurement, as well as basic concepts related to number theory and order of operations.
In We Sing and Blend children learn a collection of over 120 songs including music for every liturgical season.
In Phonics 5 for Young Catholics, the final year of studying phonics, students work with consonant letter-sound associations, digraphs, and diphthongs.
Students demonstrate improvement in the decoding of words by analysis of their prefixes, roots, and suffixes. Continued emphasis is placed on compound words, possessives, and contractions.
Science 5 for Young Catholics expands on our continuing theme of appreciation for God as the Creator of His amazing world and the incredible enormity of His intellect which is beyond anything we could ever imagine.
Within the pages of our new fifth grade science book, Seton offers the student and family an understanding of the human body by showing how God in His infinite wisdom designed not only several intricate systems, but also designed the human body to be able to heal itself.
Additionally, the last four chapters explore God's marvelous design in mammals, birds, reptiles, amphibians, and fish. Scriptural and Catholic theology references throughout reinforce these concepts.
Apologia's Exploring Creation with Zoology 1: Flying Creatures of the Fifth Day is available as an alternate choice for an additional fee.
Spelling 5 for Young Catholics provides a full review of basic phonics and spelling rules with teaching suggestions and a recommended weekly spelling plan.
Students learn their spelling words in 36 lessons by completing various exercises and then read their words in paragraphs covering the lives of the saints.
Vocabulary 5 for Young Catholics begins each lesson with a fun and entertaining story. Each story introduces 15 new vocabulary words which become the basis for the week's lesson.
Students are more apt to learn new words when they see them in the context of an entertaining story.
The Value of Your Enrollment
Your enrollment provides you with much more than just a box of books. It provides an accredited education, a strong support system, and a community of staff and homeschoolers who are in your corner. It provides access to academic and support counseling, grading and record keeping, and a solid Catholic curriculum that promotes strong Catholic values in each and every subject.