Kindergarten Homeschooling Curriculum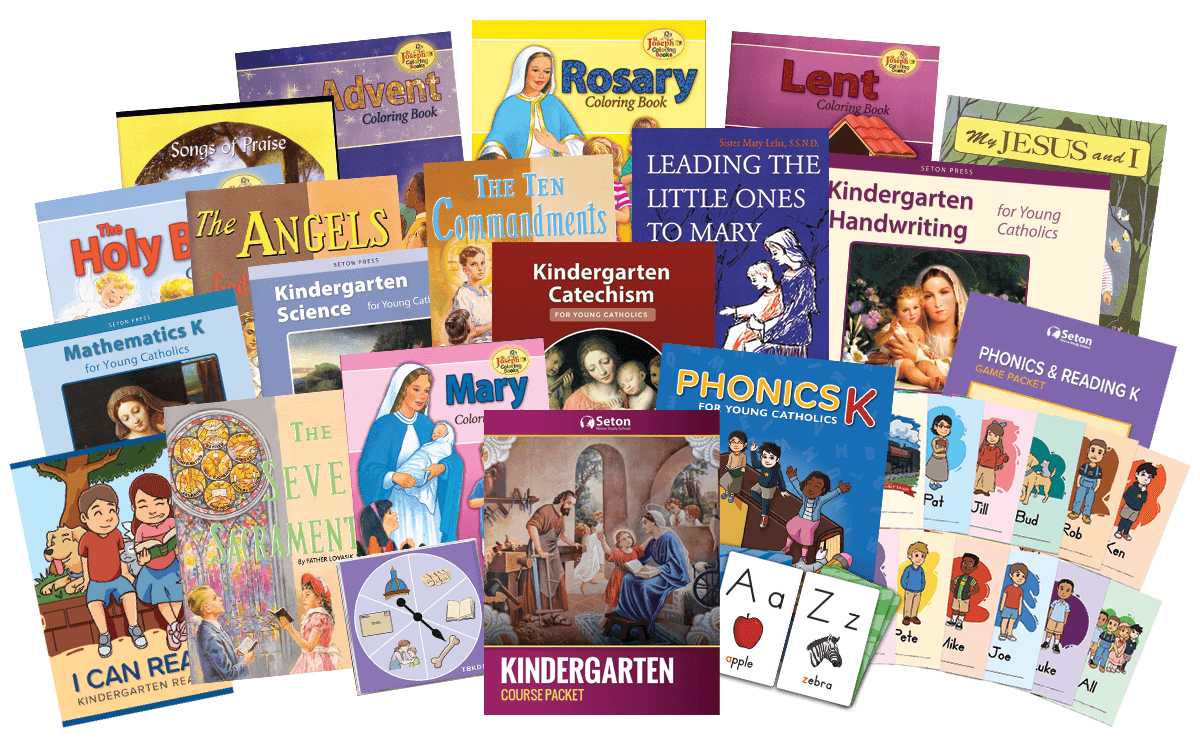 Special Offer: Students who complete Seton's Kindergarten program receive a $50 discount when they enroll in First Grade.
Kindergarten Lesson Plans
The Lesson Plans walk you through day-by-day instructions and activities with your child using the curriculum that you receive with your enrollment.
With the activity books and coloring books, your little one will be happy to be homeschooling!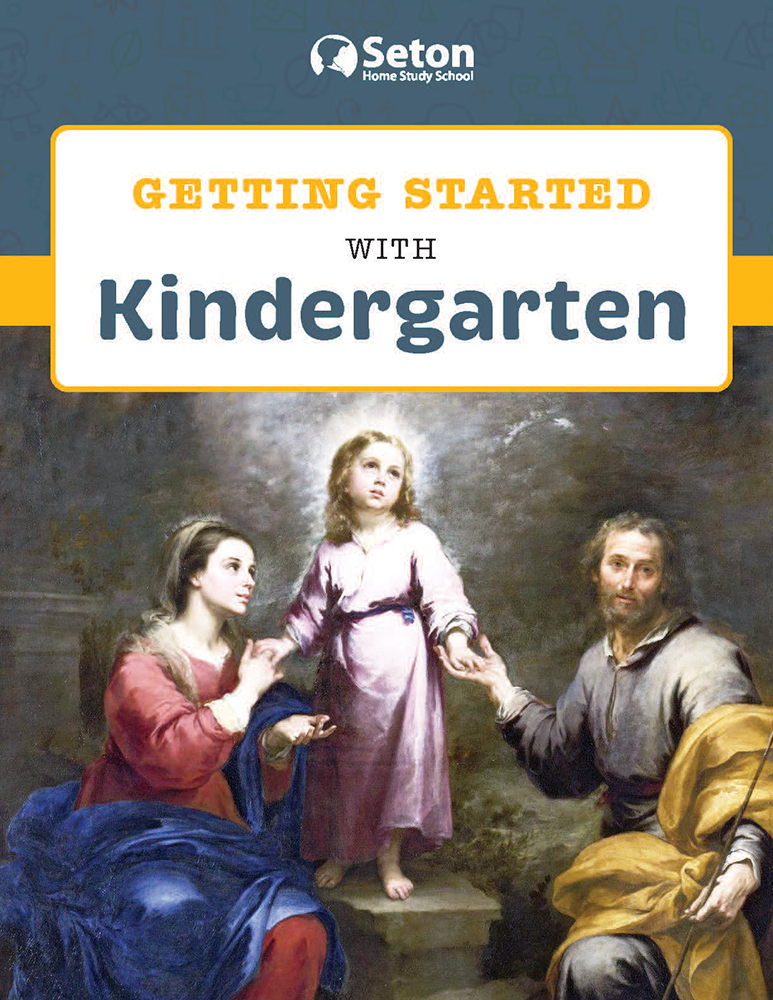 Art and Poetry K is an entirely new book and course. The book shows a work of art and an associated poem for each week. The lesson plans are extensive, and help guide the student in appreciating the art and poetry, as well as providing a related craft or art project for each week. It includes an activity pack with the necessary paper cut-outs and coloring pages.
The new book and resources add substantial value for parents. The lesson plans alone have over 100 pages.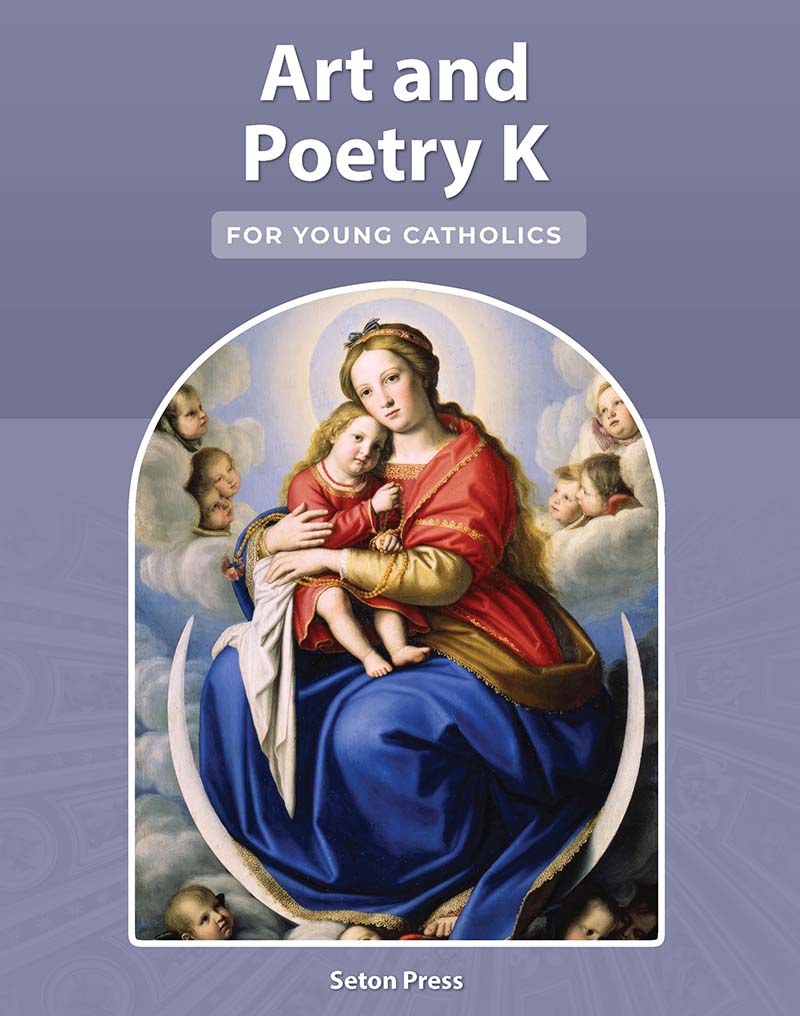 Kindergarten Handwriting for Young Catholics Is designed to develop the Kindergarten child's fine motor skills while teaching proper handwriting strokes for the letters of the alphabet and basic numerals. The letters are taught in order of speech development: first the consonants, then the vowels. Handwriting K for Young Catholics was designed to accompany Phonics K for Young Catholics. The order in which the letters are studied is the same in the Phonics book and Handwriting book. Either course may also be used independently.
Topics covered include: stroke refinement of down-strike lines, backward circles, forward circles, forward lines, slant-stroke lines, and the use of these techniques in drawing all of the capital and lowercase letters, and also numerals. The method used employs the Zaner-Bloser stroke descriptions format.
In Mathematics K for Young Catholics, students recognize and distinguish objects, positions, shapes, and patterns, as well as associating numbers and numerals with different sets of items.
Other skills introduced are counting from one to ten, identifying numerals from 0 to 100, and working with lengths and measuring objects. Kindergartners also learn beginning skills in telling time and working with money.
For this subject there is an audio CD, Songs of Praise, with 19 songs that we offer for Grade K but that are appropriate for any primary or elementary level. The CD is a wonderful collection of songs for children performed by accomplished recording artist, Danny Schneible.
Children will have fun listening and singing along with the many enjoyable tracks. They will learn hymns often sung at Mass and Benediction of the Most Blessed Sacrament, which will allow them to feel more a part of the Church community and help them to participate in the prayers and songs.
In Phonics K for Young Catholics, the young student takes his first steps into the world of reading. He learns to recognize letters of the alphabet, their names, their sounds, and how to write them. With this knowledge, he combines the sounds of letters to form words, and so begins the process of reading.
Booklet readers, the I Can Read: Kindergarten Reader, and many other activities are included to guarantee that the kindergarten phonics program will make these first steps the beginning of an exciting and enjoyable journey.
Students begin their study of who God is, God's love for us, God's creation, sin, Jesus as Savior, the Holy Spirit, grace, the Church, the moral life, Mary, angels, saints, Heaven, and Hell. In addition, students become familiar with the parts of the Mass, the decades of the Rosary, and the Stations of the Cross. Children also learn basic prayers and exhibit fundamental practices of the Catholic Faith, especially the Sign of the Cross, morning and evening prayers, and reverent posture and behavior at Mass.
Religion K has 9 books in all. Throughout, students develop the beginnings of an interior life of faith and prayer. In addition to our book Kindergarten Catechism for Young Catholics, the curriculum includes three coloring books on the Holy Bible, the Rosary, and Mary; three Fr. Lovasik books covering the Seven Sacraments, the Angels, and the Ten Commandments; and the well-loved book, My Jesus and I.
Kindergarten Science for Young Catholics introduces science and the scientific method by providing experiments that can be done at home. Includes suggestions for field trips to museums, zoos, and aquariums and Catholic comments throughout, with a section on what God can do after each lesson.
The Value of Your Enrollment
Your enrollment provides you with much more than just a box of books. It provides an accredited education, a strong support system, and a community of staff and homeschoolers who are in your corner. It provides access to academic and support counseling, grading and record keeping, and a solid Catholic curriculum that promotes strong Catholic values in each and every subject.