Grade 4 Homeschooling Curriculum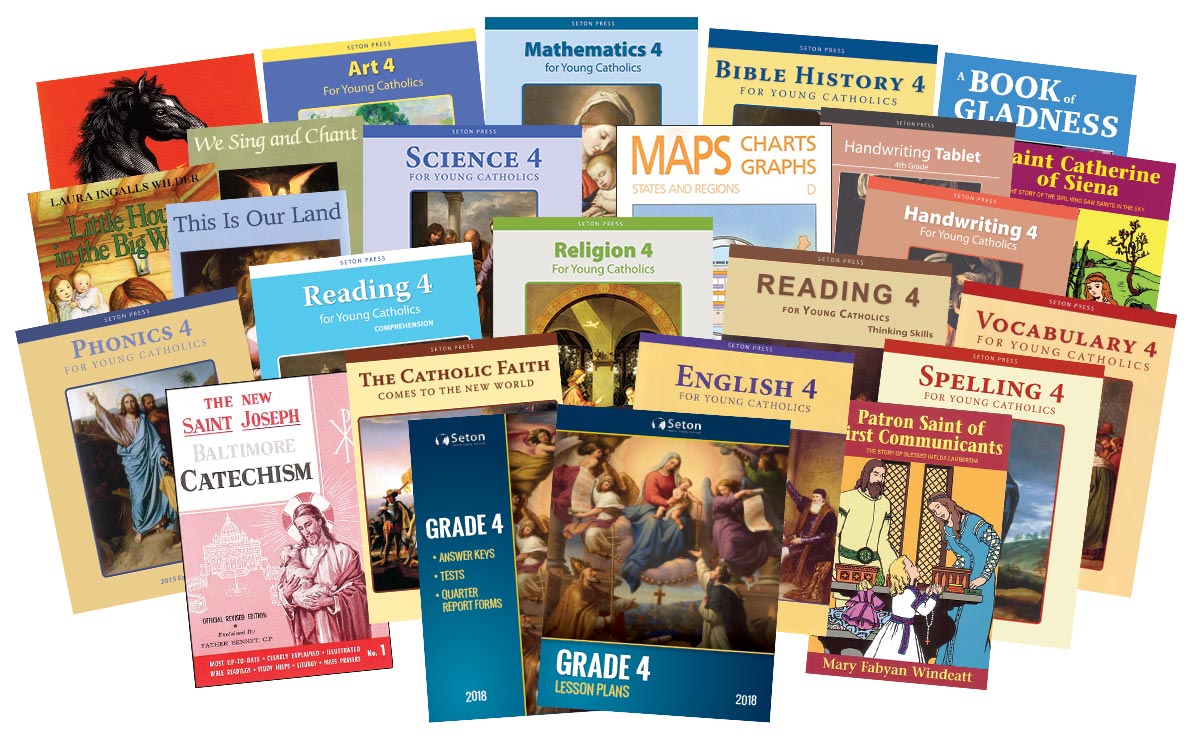 The detailed Lesson Plans walk you through day-by-day instructions and activities with your student.
Answer Keys, Tests, and Quarter Report Forms are included.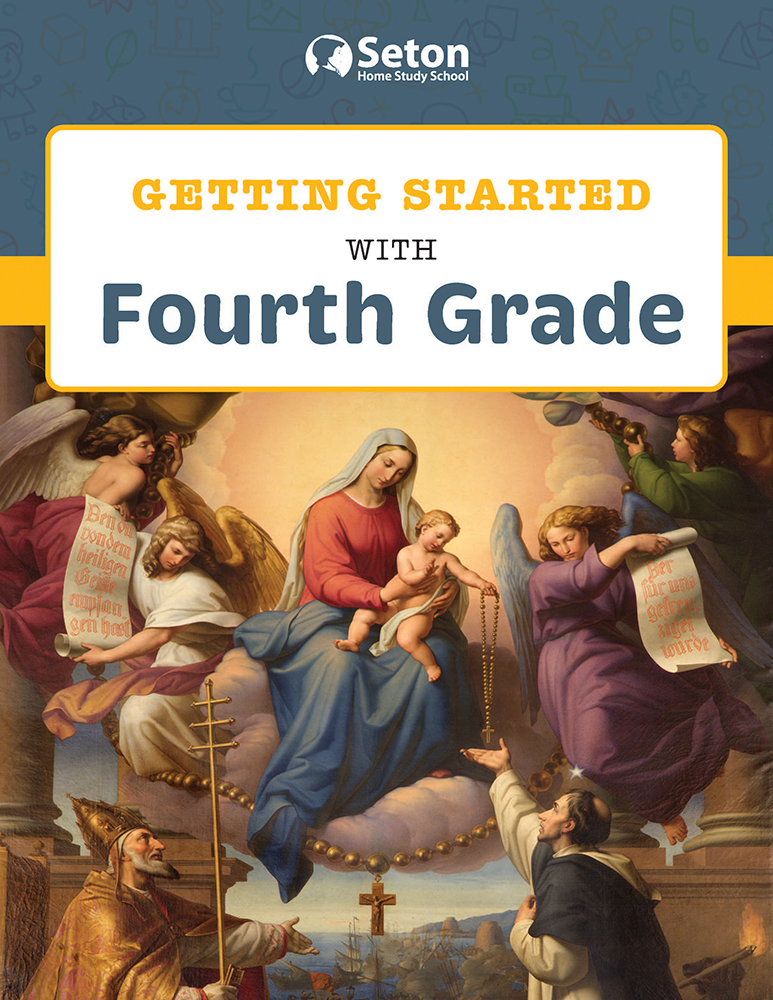 In Art 4 for Young Catholics, skills are developed and perfected, including hand-to-eye coordination, manual dexterity, and visual perception.
Students review the drawing of different kinds of lines, and learn about colors and color value, harmony and contrast, dimension, symmetry, contour, texture, symbolism, balance, design, and shading.
English 4 for Young Catholics provides students with practice in word study, sentence types, parts of speech, diagramming, punctuation, and capitalization.
Letter writing and dictionary/library skills are also studied. The student's skills in paragraph composition are developed and put into practice in writing assignments. While studying grammar, students learn about the lives of many of the English martyrs.
In Handwriting 4 for Young Catholics, proficiency in cursive handwriting is the main goal. Students have daily practice of cursive with Catholic words and phrases, and review print letters. At midyear, the lessons instruct children in how to write smaller and faster while still aiming for neatness and legibility.
Included is Seton Handwriting Tablet 4th Grade. Seton produced lined paper for extra penmanship practice. 3/8 inch rule, red baseline, broken midline. 8.5 x 11 inches. 48 pp.
History becomes an adventure for students with The Catholic Faith Comes to the New World. They sail icy northern seas with Vikings and unknown waters with Columbus. They watch as colonists settle in the New World and they learn about their hardships and triumphs. They watch George Washington and other patriots as they fight for America's liberty and take pride in the Catholic leaders who helped to win victory for a new nation.
Geography Skills 4 for Young Catholics rounds out the course with geography lessons which explain how to use maps and interpret charts. Maps in this book focus on states in the eastern half of the United States. 
Students improve the accuracy and speed of their problem solving as they practice addition, subtraction, multiplication, and division in Mathematics 4 for Young Catholics.
They also study decimals, adding fractions, graphing, and probability.
For music, students can learn over 200 songs organized by liturgical season in We Sing and Chant.
The course includes music for Advent, Christmastide, Lent, Passiontide, Easter, and Pentecost.
In Phonics 4 for Young Catholics, fourth graders improve their phonics skills by recognizing blends, consonant digraphs, vowel digraphs, diphthongs, and silent letters.
They will decode words by analyzing prefixes, roots, and suffixes. The goal of this course is to strengthen the student's reading ability.
The transition from third to fourth grade is important. Students have moved beyond learning to read; they are reading to learn. They continue the Faith and Freedom series with This Is Our Land and A Book of Gladness.
They use the Reading 4 for Young Catholics: Comprehension and Reading 4 for Young Catholics: Thinking Skills workbooks to learn comprehension and critical thinking. They begin complete book reports. The book report process is broken down into steps: gathering information, collecting examples to support the topic sentence, creating an outline, and writing a four-paragraph essay on the book.
For the first quarter, students are taught how to write a book report using the example book, The Small War of Sergeant Donkey. For the second quarter book report, students are provided with the opening paragraph and the topic sentences of the body paragraphs are provided. Students write their own opening paragraphs and topic sentences for the last two book reports. 
Book Report Options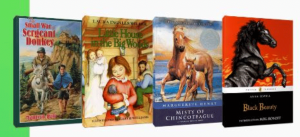 1ST & 2ND QUARTER
The Small War of Sergeant Donkey
Black Beauty
Little House in the Big Woods
Misty of Chincoteague
The Cabin Faced West
Charlotte's Web

3RD & 4TH QUARTER
Saint Thomas Aquinas
Saint Catherine of Siena
Patron of First Communicants
The Miraculous Medal
The Curé of Ars
Saint Thérèse
Father Marquette
Saint Dominic
In Science 4 for Young Catholics children explore their world, learning about topics such as the heavens, water, material things, machines, living things, the wonder of man, and taking care of their health.
For spelling, students use Spelling 4 for Young Catholics. They read their spelling words in 36 lessons covering Old Testament Bible stories, then learn and review specific spelling rules.
They study syllabication and alphabetizing as well as "Sort by Spelling," "Definitions," "Missing Words," and "Story Time" exercises.
Vocabulary 4 for Young Catholics teaches students 240 new words to increase their vocabulary. The students begin each of the twenty-four lessons by defining the new words. Then, they are asked to use the words properly in fill-in-the-blank sentences.
Many of the sentences are specifically Catholic or patriotic in the content. Each chapter concludes with a crossword puzzle, where the student again uses the newly learned vocabulary.
The Value of Your Enrollment
Your enrollment provides you with much more than just a box of books. It provides an accredited education, a strong support system, and a community of staff and homeschoolers who are in your corner. It provides access to academic and support counseling, grading and record keeping, and a solid Catholic curriculum that promotes strong Catholic values in each and every subject.